Massachusetts Affidavit of Small Estate Form
How to fill Massachusetts Affidavit of Small Estate Form - Massachusetts Small Estate Affidavit form download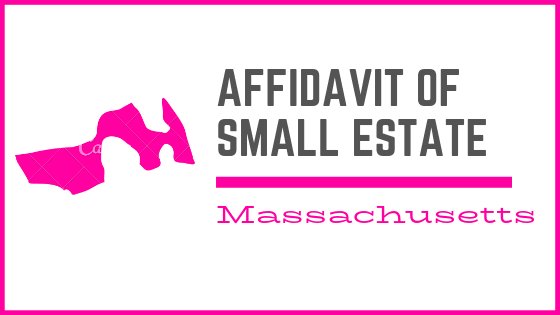 Massachusetts is the most populous US state in New England which is famous for its colonial life. A petitioner or heir in Massachusetts can use small estate affidavit called 'Voluntary Administration Statement form' or 'MPC 70 form' for collection and transfer of decedent property. Here, it is important to mention that this affidavit cannot be used for transferring the real property.
The personal property of equal to or less than $25,000 value can be collected and transferred through Massachusetts small estate affidavit. This affidavit can be submitted only if death certificate and will, if any, is attached to it. The petitioners or the heirs may have to pay a onetime fee of $115 to proceed. The legal beneficiaries of the decedent property can apply for this affidavit 30 days after the death of the owner.
How to fill Massachusetts Affidavit of Small Estate Form – 8 steps to fill out Small Estate Affidavit?
Download Massachusetts Affidavit of Small Estate Form
Writing a small estate affidavit is not much difficult and the heirs or petitioners can easily fill it.
Following are some of the important steps in filling affidavit of small estate:
Step 1: The very first step is to fill a small box at the top left corner of the form. Here, the petitioner will have to write the name of the decedent and his exact date of death.
Step 2: In section 1 of the Massachusetts small estate form, there is a column for writing the name and complete address of the decedent. Here, you can also use any other name the decedent has been using in his lifetime.
Step 3: Section two requires the name, full address, and phone number of the petitioner along with his interest in the decedent's property.
Step 4: There are some boxes related to the decedent's will. The heirs can check or uncheck the relevant boxes. Here, one of the boxes ensures that the petitioner has sent the copy of death certificate and this statement to Division of Medical Assistance.
Step 5: The next page also starts with decedent's name at the top. Now, the petitioners will have to enter the details of the property left by the decedent.
Step 6: The next step is to write the names of the heirs. You can also write the name of the person who is the joint partner of the property with the decedent.
Step 7: The third and the last page also start with the column for entering the name of the decedent.
Step 8: Now, sign the document and note the date of filling the form before the notary. Submit the copy to probate court as information along with a fee of $115.